Parents and Students
The Home Access Center portal (HAC) has been turned back on. Grades for the 2019-20 school year are available now. The portal can be accessed on our website nettletonschools.net. Instructions are provided below.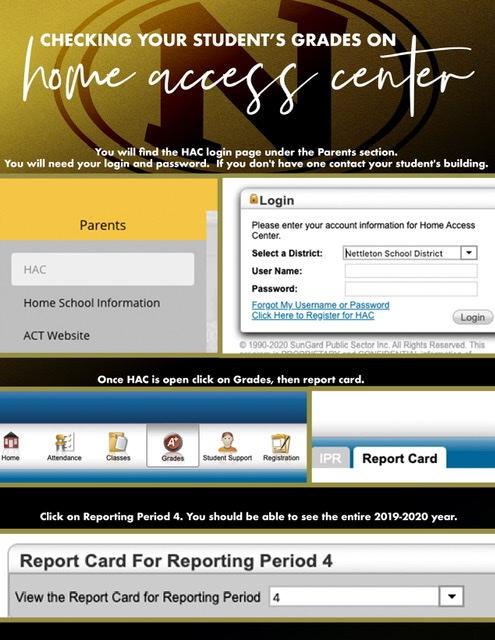 ---
Due to the recent, and continued, increase of COVID-19 cases within the State of Arkansas, Nettleton Public Schools has decided to postpone registration for the 2020 Summer Camp Raider program. Please continue to check the district website and social media sites for updates as they become available.

The health and happiness of our students and staff members remains our top priority at NPS and we look forward to seeing everyone soon!

Until then, thank you for your understanding, stay safe and be well!
---
Parents: our Home Access Center portal (HAC) will be down until Tuesday, May 26 as we enter in final grades for students. Thanks for your patience and understanding and check back Tuesday for final grades.

#RaiderPride
April 6, 2020
Earlier today, Arkansas Governor Asa Hutchinson announced that due to the continued impact of the Covid-19 virus upon our country, our state, and our local communities, and in order to remain in compliance with recommendations from the Office of the President of the United States and national health organizations, public school districts in Arkansas will remain closed for the foreseeable future, thereby bringing an end to the 2019-2020 school year.
Local school districts will now begin sharing plans with their teachers, parents, and students on how to complete any unfinished business for the school year effectively, efficiently, and as soon as possible. As Superintendents of the local school districts, we understand the importance of these tasks, but we also understand the sensitive nature of ending the year so abruptly, and under such downhearted and challenging conditions. We recognize the unprecedented circumstances that we are all facing in education and are working diligently to make decisions that are both thoughtful and respectful. However, at all times these decisions must ensure the integrity of our learning environments and the health of our school patrons. As such, we have come to a joint decision that as of today, graduation ceremonies for the Class of 2020 are postponed indefinitely.
We do not make this decision lightly or without the deepest consideration for our seniors and their families. We know the commitment and achievement that high school graduation symbolizes and do not wish to lessen the significance of this milestone due to the lack of a ceremony. Even though we may not be able to ceremoniously say "good-bye" as we have before, this in no way minimizes the pride and confidence we have in our graduating seniors...they are more than ready to go out and be the change in our world!
We thank you all for your understanding. Until we see you again, we wish our school families, and especially the Class of 2020, to be strong and be well.
---
As ordered by Governor Hutchinson, Nettleton Public Schools will be closed for the rest of the school year to in-school instruction. We will be continuing education through Alternative Methods of Instruction (AMI) through the rest of the school year.
Teachers and staff, our current AMI curriculum plan remains in place.
---
Nettleton Public Schools
Alternative Methods of Instruction (AMI) Plan
Starting April 7, 2020
Nettleton Parents and Families:
The NPS Curriculum and Leadership Team has analyzed various options for AMI during the required school closures due to Covid-19. Beginning on April 7, NPS will transition to the following plan for AMI until further notice:
Grades K-8: Students in grades K-8 will utilize the Public Broadcasting Service (PBS) instructional materials developed by the Division of Elementary and Secondary Education. ARkansas PBS will alter its regular television programming to provide age-appropriate educational content for three specific grade bands (PK-2, 3-5, 6-8). This option will replace the previous AMI packets sent home by your child's teacher(s). The Arkansas AMI Learning Guides have been developed to support home-based instruction in association with the PBS educational television programs to promote activities that students and families may use to practice existing skills, learn new topics, and interact with one another in a meaningful way. Teachers will communicate with you weekly about the assignments and options to submit through your preferred method which might include text, email, Class Dojo, the Remind App, or Google Classroom.
How to Watch: Tune in to Arkansas PBS to watch Arkansas Alternative Methods of Instruction (AMI) over the air or through your cable or satellite provider. You can find out how to watch at myarkansaspbs.org/channelinformation https://www.myarkansaspbs.org/onair/channelinformation
Daytime Broadcast: Monday-Friday Location: Channel 2 or 12
Schedule: Grades K-2: 8:00-9:30 Grades 3-5: 9:30-11:00 Grades 6-8: 11:00-1:00
If you miss the live broadcast? The AMI instructional content and shows will be available online after 4:00 P.M. of the same day of broadcast. Click here to connect to the website: https://www.myarkansaspbs.org/ArkansasAMI
Another option for accessing the AMI content is by downloading the Engage Arkansas PBS App. Once downloaded, click the small movie camera titled "Daily AMI" or "Watch" at the bottom of the screen to watch appropropriate grade level videos for your student.
Help Desk Support: Having trouble getting the shows on your TV? Technical staff are available to help.
* Email: info@myarkansaspbs.org * Phone Number: 501-682-2386
Need help with the lessons? Educators are available during the daytime broadcast.
* Email: amihelp@myarkansaspbs.org * Phone Number: 501-682-0317
Grades 9-11: Students in grades 9-12 will continue to utilize Google Classroom to access lessons created by their various teachers. The lessons will consist of review material that will serve to re-teach and/or reinforce previously learned skills. Teachers will be available through Google Classroom to assist students with any questions they may have regarding AMI lessons, materials, outcomes, etc.
Grade 12: All students in Grade 12 will be contacted by Nettleton High School Administration regarding their academic status and made aware of any further requirements needed in order to successfully meet the conditions for graduation.
Nettleton Public Schools remains committed to "whatever it takes, for every child," even during this unprecedented time of education. The purpose of the AMI lessons is to ensure that every student has the opportunity to continue to participate in a meaningful and successful educational journey. The lessons are not meant to bring about any additional difficulties or feelings of anxiety during an already challenging time for our Nettleton Families. As such, completion of the AMI lessons can only serve to benefit the student and his/her grade. A student will not be punished, nor will their grade be negatively affected, for their non-completion of the AMI lessons.
If you have any questions regarding specific, upcoming AMI lessons, please feel free to contact your student's teacher for guidance and support...they will be more than happy to offer their assistance in order to best provide a positive learning experience for each one of their students.
Report cards for the third quarter will not be sent home at this time. Parents may access grades by logging into their Home Access Account (HAC). Contact your child's teacher if you are unable to access the HAC account or need login information.
Thank you for your continued support. Proud to be a Raider!
James Dunivan Superintendent
Karen Curtner Assistant Superintendent
Lacy Baker Secondary Curriculum Director
Grace Petersen Elementary Curriculum Director